Yesterday, I got into a bit of a tizz on Twitter. It all started with one seemingly innocent tweet from Luke Jones and spiralled out of control from there:
If you think Firefox is better than Chrome or Safari, there's something wrong with you.
— Luke Jones (@lukejonesme) April 10, 2012
I shan't bother with the comments that followed, but needless to say I was a bit hacked off by this tweet. My initial reply was lighthearted though, a simple jab to point out that I am a Firefox user, but the conversation sort of slithered into the realm of "my browser is better than yours and let me count the ways".
While there were a few people who "defended" my corner (that there are reasons to use Firefox), Luke had a pretty strong stance that Firefox users were somehow lesser beings than those who use Chrome or Safari. Perhaps that's not how he felt, but that's how he came across to me, at least. For the most part I decided to stay out of it after that, while accusations and swear words (from obvious sources) were flung left and right, but it still made me wonder. Perhaps I'm being bold in making this comparison, but really: in a society where racial tolerance is encouraged, in a community where it doesn't make a difference if you're gay or straight, why are we still so prejudiced over a user's choice of browser? What happened to tolerance?
Perhaps I'm just being overdramatic, but it really does make me wonder.
But it's okay, I reasoned, because I had one thing up on them all. I had this one thing that allows me to sit high and mighty above everyone else and grin down at them in a superior way like some sort of smug cat thing. Yes, for once I was secure in my knowledge that I am better than all of them. And why is that?
Well, it's simple. I have my browser, and my browser is the best browser out there.
Gasp!
No, honestly, it's true. I use Firefox, currently version 11.0, and I use a few addons. At home I'm using Firefox Nightly, and on my laptop I'm running Firefox 10.0 because I have yet to upgrade to 11. I use Firebug and ColorZilla, Adblock Plus and Tab Mix Plus. I use Stylish for Tumblr and have the Web Developer's toolbar installed. I also have a Persona installed to make my browser look pretty, and I use XMarks to sync my passwords from one machine to the next. I have an up-to-date version of Flash and Java and even Adobe Reader installed, and I use Greasemonkey scripts to make life easier on certain sites I play.
I've used Firefox since it was version 1.0, when Internet Explorer contracted a virus of some sort and kept popping up ads, rendering the internet unusable. I used Netscape for a very short amount of time before it was discontinued, switched to Flock at the recommendation of Netscape, then moved to Firefox from there. And I've stuck with it ever since.
From hideous creations like this (admittedly a screenshot from my friend, but using the same browser I was at the time):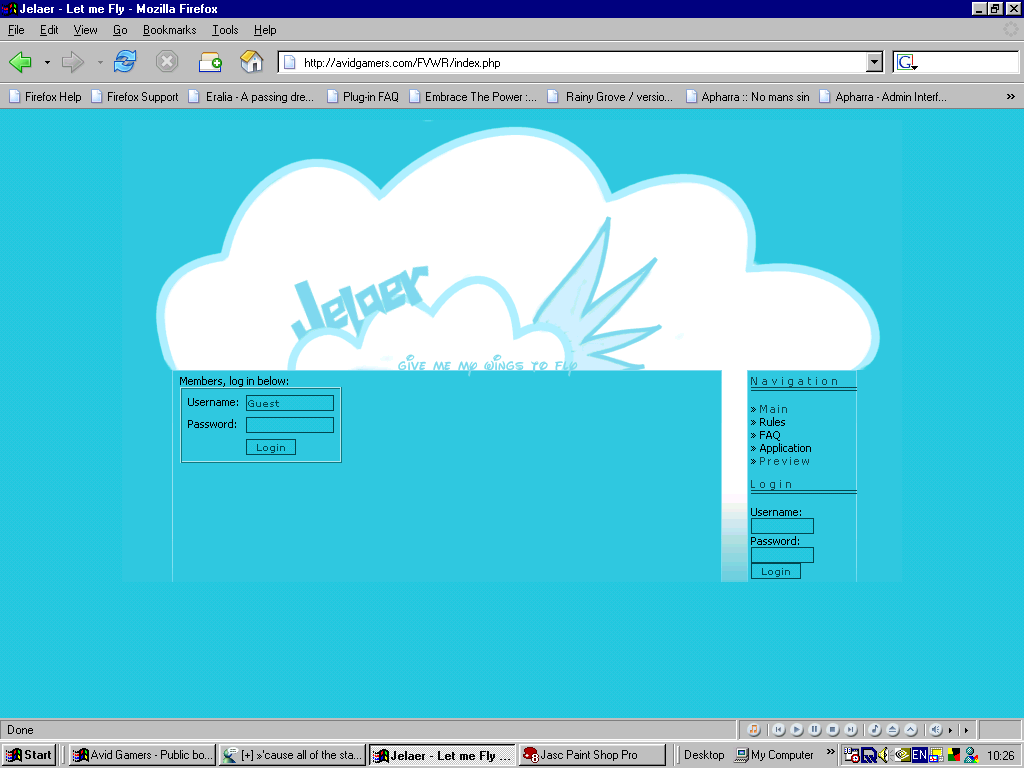 To the slightly better-looking things I create today, I've stuck with Firefox. Through the ups and downs and through its memory leaks and bugs, I've stuck with Firefox. I've grown up with the browser, and as I've discovered new and useful tools for web design and development, I've added them to my standard list of "things to install when I update my OS".
Now there's Chrome, which is a lovely browser and useful to test in. Recently it's had a few bugs but it's okay. I don't like the inspector, though. It took a long time for me to actually start using Firebug, and now I'm using that I don't want to use something else. Chrome's inspector is annoying and Opera's is worse. I avoid using IE's at all costs. Firebug does what I want it to do, and it does it well. I don't even use Firefox's built-in one (I disabled that entirely!).
Chrome is fast, but I'm a patient person and I accept that Firefox doesn't load at the snap of my fingers. I don't mind that. I can tolerate it. It's not a perfect piece of software. Safari on Windows is unusable. I can't even scroll using the wheel of my mouse. I refuse to use it unless it's absolutely necessary. Opera is nice enough, and in some respects it's nicer than Firefox, but I just can't get to grips with it. The toolbars and context menus are backwards. I'm used to Firefox. I laugh at IE. Simple as that. IE has improved a lot but it is still awful.
My browser is the best, and it's better than all of yours because it is my browser.
And I'll thank you all to remember that next time you accuse mine of being inferior.
P.S. I apologise for not blogging a lot recently. I wrote a 2,000-word blog post a few weeks ago that somehow got wiped by WordPress. It was a post that was close to my heart, and I was discouraged from writing for a while. I hope I can change that soon.